Posted by The Sound Organisation on Jan 11th 2021
The English Electric 8Switch launched in 2020 and was well received by many audio industry critics. The audio-grade network switch provided a unique way to drastically improve the quality of the network signal in a streaming system. As streaming music becomes more and more popular with platforms like Spotify, Apple Music, Tidal, Qobuz, and Roon, there's a need to bring high-fidelity performance to the signal that carries the music. Typical network switches might be fine for simple data transfer, but electromagnetic interference and inaccurate oscillators can wreak havoc on audio signals. The English Electric 8Switch uses a customized crystal oscillator for highly accurate signal generation and utilizes multiple interference absorbers to offer the most high-resolution network signal possible.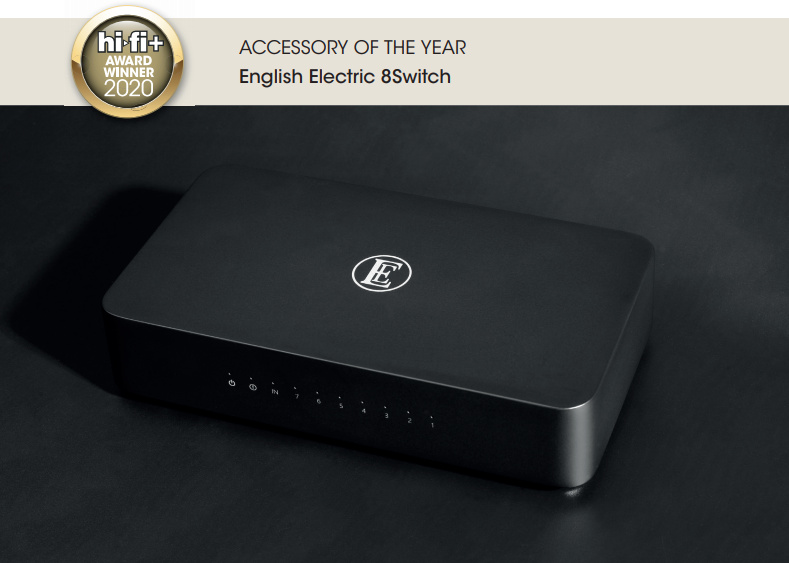 After a stellar review for the 8Switch by Jason Kennedy, Hi-Fi+ has awarded the 8Switch the title of Accessory of the Year for 2020.
Jason Kennedy felt that, "Going from a Cisco Catalyst 2960 S1 to the 8Switch resulted in a considerable increase in high-frequency detail and better timing." He also said, "The degree to which the upper end of the spectrum was cleaned up was quite a revelation, making the tone of voices and instruments far more appealing. It also opened up the soundstage really nicely, increasing its scale and depth."