Posted by The Sound Organisation on May 18th 2020
Our retailers have just recently taken their first shipments of the all-new English Electric 8Switch network switch and we're already hearing the great things! The 8Switch is an 8-port gigabit network switch that instantly improves your streaming music using a high-accuracy custom signal generator, electrical noise isolation, electromagnetic isolation and a medical-grade power supply. These technologies come together to create an audio-grade network signal through your system.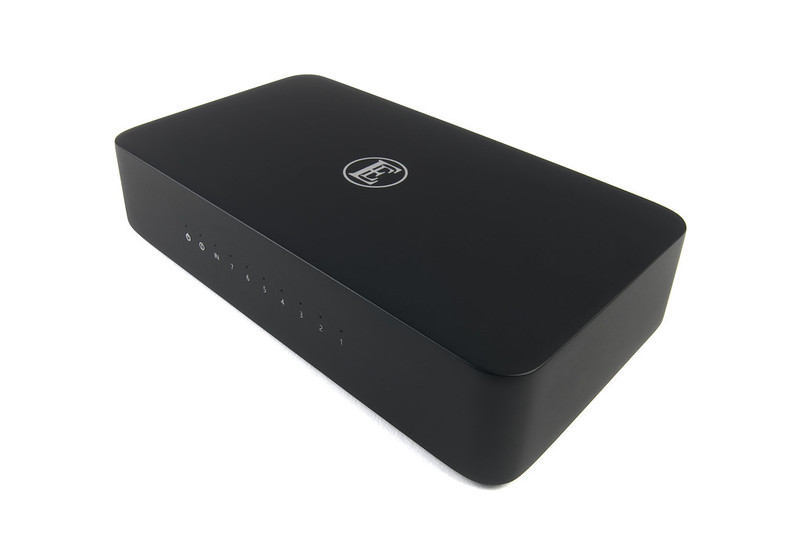 English Electric is new division of The Chord Company, supplier of the best audio cables on the market. The Chord Company announced the revival of the famed English Electric brand as well as the new 8Switch at the Bristol Hi-Fi show in early 2020, but the new network switch has finally arrived stateside and in the hands of our retailer partners. One of the first adopters of the 8Switch was Lawson Hale of Sound Image in Atlanta, Georgia. Lawson recently plugged the 8Switch into his network and was surprised by how much it improved the performance of his system. Here's what he had to say,
I've been in the HiFi business long enough to know that nearly everything you touch in your system can either make things better or worse in musical terms. The best thing you can do is try to remain open minded and let your ears (and body) convey what is happening. At one time I was skeptical of the ability of 'Audiophile' Ethernet cables to make a meaningful difference but extended listening indicates that indeed they do and the benefits can be astonishing.

The English Electric 8Switch doesn't necessarily impress when you first take it out of the box — it's solidly built to be sure, but at the end of the day it's just a network switch— or is it? Like premium Ethernet cables, this is one of those products that needs to be heard to be believed and ultimately understood.

After just a few listening comparisons, the effects of having the 8Switch in your network path are undeniable. Phrasing of instruments becomes so much easier to comprehend. Musical transients and dynamics are also greatly enhanced, giving the listener a front row seat as opposed to sitting in the Mezzanine level. Instruments are given their proper space to breathe and express themselves, producing a much wider and deeper sound field.

Being a former musician I believe that timing is everything in music. As good as I thought my system already was at this discipline, the 8Switch improved timing by at least a factor of two. There is an undeniable sense of togetherness that is present when the 8Switch is injected into the signal path. Take it away and you'll find your foot is no longer happily tapping away to the beat of the music.

After hearing such improvements, I find it useful to go back to square one to either confirm or deny any perceived findings. In my view, removal of the 8Switch from your system forces the computing power of your brain to fill in the missing pieces. At 53 years old, my brain is still pretty sharp but I'd rather leave this task to the 8Switch. Dynamics become crushed and phrasing becomes smeared like peanut butter on a stale pieces of bread. This is truly one of those upgrades that you do not want to ever take away from your system, especially at such a modest price.

In summary, there are few upgrades for a networked audio system that are as easy to install and hear an immediate and meaningful improvement. The 8Switch will now take its rightful place in my audio system.
Wow, an amazing review from someone who really knows his stuff! If you're in the Atlanta area and would like to hear the 8Switch for yourself, contact Lawson and the crew over at Sound Image and set-up a time to demo this amazing network switch.
We also advise you to check out this great video from Pursuit Perfect System in the UK where you can hear the difference the 8Switch can make in your system. If you're still not convinced or want to hear the 8Switch in person, ask your local audio shop to get one in for your to try!