Posted by The Sound Organisation on Feb 12th 2019
2018 was a big year for Chord Cables. New products were launched or announced and it seemed every Hi-Fi publication had a review of or award for a Chord cable. Two of Chord's entry level lines, the C-series and the Clearway cables, got a lot of attention form the audio world. If you've been looking for away to improve your stereo system in 2019, then consider upgrading your current cables with Chord Cables. Just listen to what the Audio world had to say about the Clearway and C-series cables!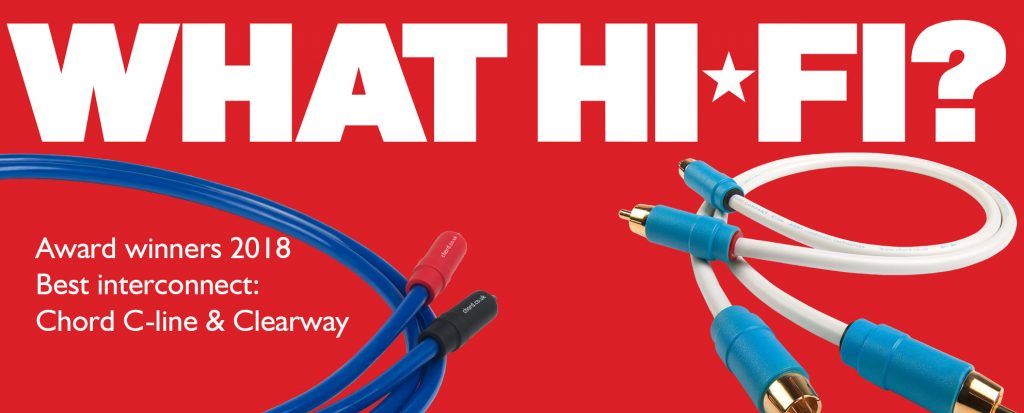 Though originally reviewed in 2015, the Chord C-Line remains the best entry-level analog cable according to What Hi-Fi?. Having won the award in 2016 and 2017, winning in 2018 shows that this cable has staying power year after year. Is the Chord C-Line worth it? According to What Hi-Fi? "This Chord interconnect is a no-brainer if you want to give your hi-fi system a lift."
Like the Chord C-Line above, the Chord Clearway RCA was named 2018's Best Analog Interconnected over £50. If you're ready to step up from from the C-Line, but aren't quite ready to move on to some of the higher-level cables like Signature, Sarum T, or ChordMusic, then its hard to beat the Chord Clearway. What Hi-Fi reviewed the Chord Clearway in October and gave it 5 stars stating simply, "It could be time to ditch your old interconnects." The Chord Clearway was reviewed in October of 2018. Click below to read What Hi-Fi's full review.
"Very very few are the budget systems that don't feel the benefit of the C-Screen's talents," says What Hi-Fi?'s Simon Lucas when naming the Chord C-Screen the Best Buy for under £7. And he's certainly right: If you're budget conscious but still want to milk every last iota of performance from your system, the C-Screen speaker cable is where you should turn. What Hi-Fi? review the C-Screen in March of 2018, you can read the full 5-Star review here
When naming the Best Buys for the £10 class, Lucas chose the Chord Clearway Speaker cable. "Chord's affordable speaker cable recently waltzed away with its second What Hi-Fi? Award in as many years. It helps your system perform at its most musical." We couldn't agree more. If you're looking for an economical way to make your system noticeably better without upgrading a major component, the Chord Clearway and give you that extra performance from your speakers at just $20 plus termination. What Hi-Fi? reviewed the Clearway speaker cable back in 2015 but updated their review with the release of the new ChordOhmic plugs. You can read the updated review here.
Though awarded in late 2017, the Chord Clearway cable also won top honors from AVTech Media, being named the best Interconnect Cable of 2017-2018. "If the brief was to carry a sense of musical coherence and a high level of detail and dynamics, this Clearway interconnect more than delivers the goods."
You can read the whole review here: Clearway Named Best Interconnect 2017-2018
Interested in upgrading your stereo system with Chord Cables? Click here to find a Chord Retailer near you!