Posted by The Sound Organisation on Jul 23rd 2020
The Chord Company resurrected the English Electric brand in order to introduce their newest invention, the 8Switch. The 8Switch is an eight-port, gigabit network switch that can improve any streaming system by offering a higher-quality ethernet signal and shielded ports to reduce noise and interference. After its introduction in early 2020, the 8Switch has been making its rounds through the audio world and impressing the ears of all who give it a try. Ed Selley, writing for Hi-Fi Choice, is the most recent to try out the English Electric 8Switch.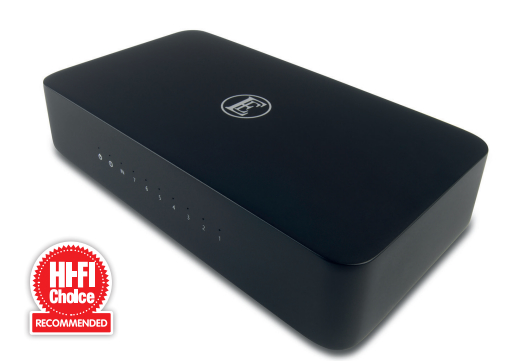 In his review, Ed Selley notes that 8Switch's first impression looks and feels worth the asking price. The aluminum chassis, power supply, and sturdy rubberized feet make the 8Switch standout from other routers that tend to be nondescript plastic boxes. After setting up the 8Switch, Ed threw all manner of connectivity tests and found that not only did the 8Switch pass them easily, but it conveniently didn't change the network address of any of the components plugged into it.
From a performance aspect, Selley took care to note that the 8Switch can't fix an already broken system. As an ancillary product, it can improve and squeeze out some additional performance from your system, but it won't tonally alter your system. He likens this to a streaming system that improves as bandwidth utilization elsewhere on the network drops:
[T]the effect is a subtle but consistent drop in any appreciable perception of processing. This is most pronounced if you happen to be using your system at a point where considerable demand is being placed on the main router – such as video streaming being used in another part of the house. Frequent reference has been made over the years to systems doing their best work when everyone else is in bed, and this is like a localised manifestation of this theory. By keeping your equipment one stage removed from the main network traffic, the benefits really are considerable.
In conclusion, Ed found the 8Switch "combines welcome sonic improvement with real-world practicality at a reasonable price." He gave the English Electric network switch 5 stars in Sound Quality, and near perfect marks in Value, Build Quality, and Features. Hi-Fi Choice also bestowed the Recommended badge on the 8Switch.