Posted by The Sound Organisation on Mar 15th 2022
Last week, The Chord Company announced their newest product, the PowerHAUS. The Chord Company produces the audio industry's finest cables, with 7 major ranges of quality to fit any budget. While premium cables can make a massive and noticeable lowering of the noise floor in your system while conveying more data from source to speakers, there are many aspects throughout a system that can muddle those results. One major source of noise is the network for digital sources, so Chord worked to improve the network switch with the English Electric 8Switch and 16Switch. Another source of noise and distortion was RF interference from unused ports. To remedy that, Chord released their ChordOhmic GroundARAY grounding devices. Now, Chord is tackling one of the biggest culprits in system issues: the power supply.
Previously, Chord has released mains power cables alongside many of their cable lines. But, now they've taken it one step further by creating an all-new power distribution block to replace you old "power strips". The PowerHAUS distribution block is hand-built in the UK by Chord Co. technicians for the purest power performance and reliability. The Chord PowerHAUS is the culmination of decades of refinement and utilizes an adapted form of Chord's signature ARAY technology. From Chord Co:

"Virtually every component utilised inside the PowerHAUS is uncompromising and has been manufactured specifically for its intended purpose. Accordingly, both M6 and S6 models are non-switched and avoid filters and neon power indicators which can generate noise and reduce quality. Their solid aluminium construction minimises the unwanted effects of microphony, too.
The PowerHAUS blocks benefit from specially selected, high-quality, heavy-gauge cables throughout, with sockets chosen not just for their reliability, but also their sound performance. A high-performance 16-amp IEC allows the PowerHAUS blocks to cope with even the most demanding home audio systems."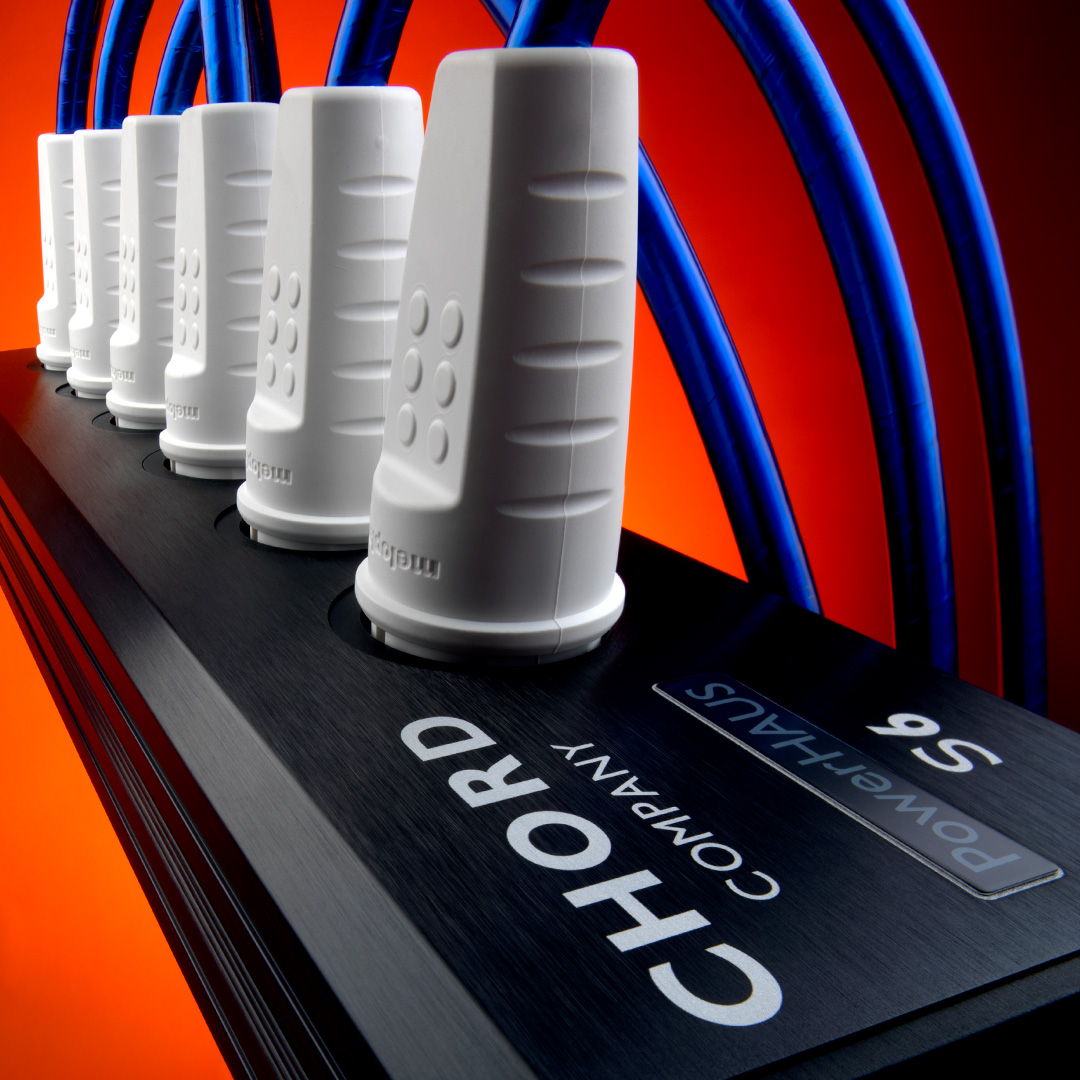 Chord is offering two versions of the PowerHAUS: the entry-level S6 (Studio) and the flagship M6 (Master). Currently, Chord only has versions for the European and UK power systems, but a US version will not be far behind. Stay tuned for updates and follow us on social media to get the latest availability announcements!