Posted by The Sound Organisation on Oct 4th 2018
Thank you for taking a little time to explore your becoming a Rega partner
Our turntable gives you a high-quality, serious, turntable to sell your customers. A table from a company who have been building turntables since 1976 (these folks know what they are doing).
WHY DOES IT MAKE SENSE:
All of your customers need to play the LP's they purchase from you when they get home. You, their record store, are the prime place for those customers to learn of, hear and purchase a 'better' turntable. A turntable that lets your customers hear everything on their LPs leads to buying even more records.
SOME SIMPLE MATH:
Put simply, selling one Rega Planar1 turntable equals the same amount of profit that you make selling approximately 70 used LP's. (& there is no sorting, grading of quality, all the fun things that go with selling used LPs).
The second point to make here is that when anyone is in your store they are thinking about LPs and playing them. The turntable seen, used, recommended to them by their record store carries far more weight than anything they might look at on-line, Target, Walmart, etc. You have the clients, you have the LPs, YOU have the best opportunity of selling that customer a turntable.
C x R = Opportunities
C=Clients
R= Records
One more bit while we're on the simple math. In every record store I see all kinds of little gee-gaws like magnets, mints, all fun stuff but essentially junk. Your customer is far more interested in a turntable than any of those things. It makes good business sense to be selling something customers want and need, a good turntable.
SEASONALITY OF RECORD PLAYER PURCHASES:
You'll possibly know that more players are consumed at the back half of the Year and into jan feb. You see store traffic rising during the holidays, you talk to your customers. You know better than anyone that the holiday season is a time when new turntables are dreamed of and often "under the tree". Your's is the store where they should be buying that gift.
RATIO NATIONALLY OF REGA TURNTABLE SALES
White grabs people's attention, it's great for your demo table. Black however will be the bigger selling color.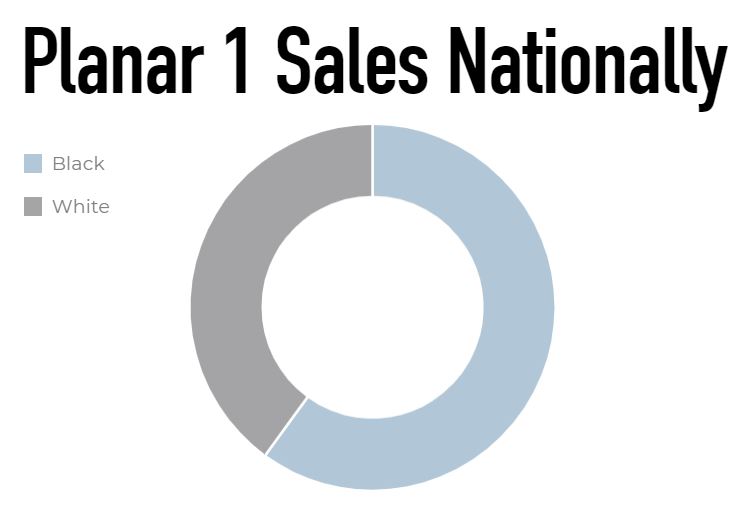 SO HOW DO I START?:
It's easy to get started becoming a Rega partner. You will go to secure website where you can choose your items add them to shopping cart and send your order and payment is all handled online.
In Conclusion:
The Rega Planar 1 is the best affordable turntable on the market. There is no other turntable near it's price that lets the listener hear everything in that record's grooves. At just south of $500 this is a turntable that everyone can afford. It's way less than a new iPhone costs and does a far better job of playing music back.
We are both in the same business, selling our customers the right things to enjoy their LPs at home. Your customer with a real turntable is going to far more prone to buying more content to enjoy on that table. Sell your customers the best there is, the Rega turntables.
Ready to start? Contact or us Today!