Posted by Chord Electronics on May 13th 2021

Gofigure update brings key 2go/Poly playback benefits
Latest free update brings improved radio and playlist support, faster access, plus the ability to browse albums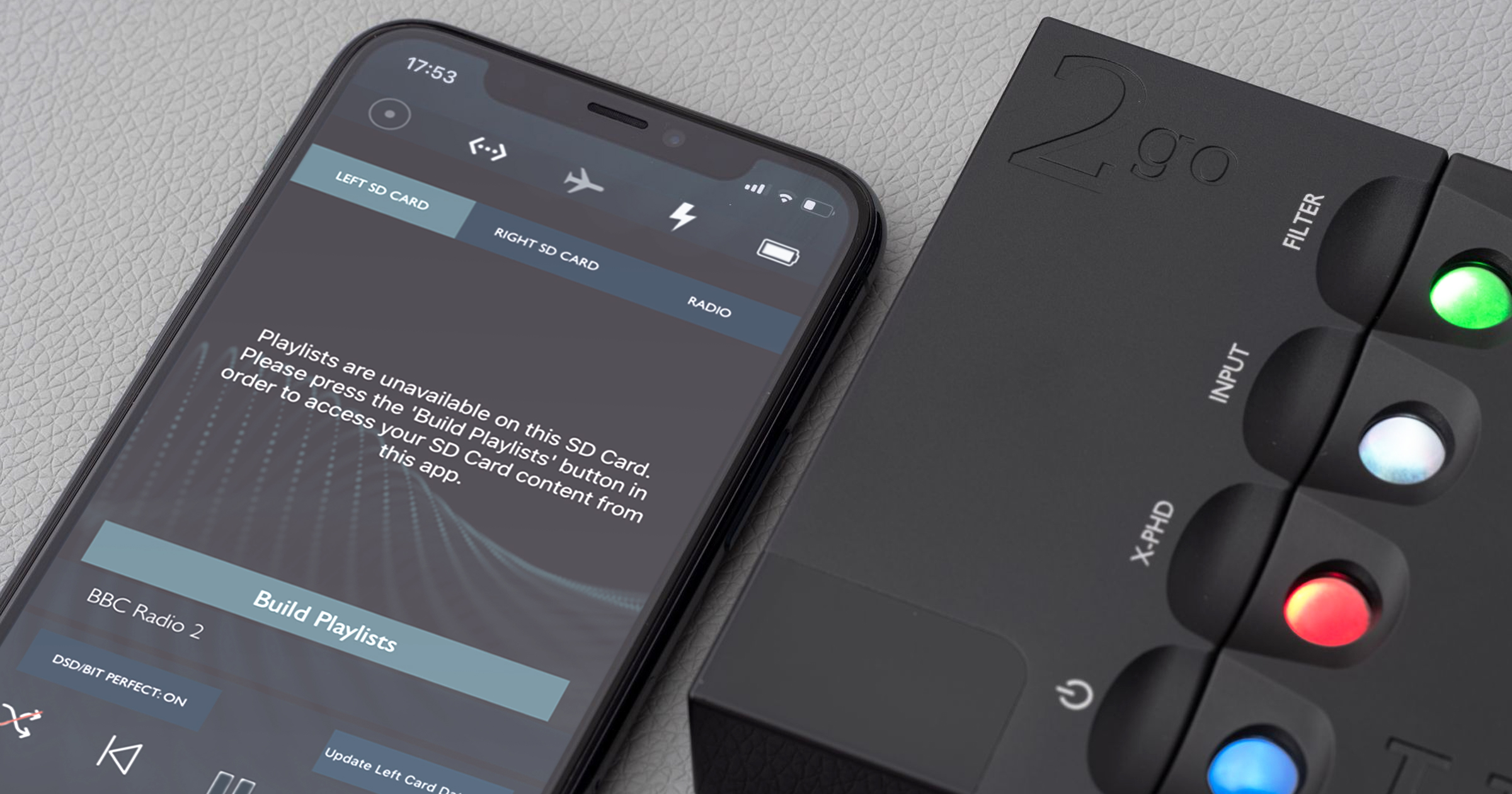 13th May 2021, Kent, UK: Chord Electronics' Gofigure app, the set-up and configuration companion for the company's Poly and 2go portable streamers/servers, has been updated to include new radio-listening features, SD card album playback and improved stability.
The key updates include improved radio station and playlist support, with faster access over Wi-Fi through caching, a playlist generator* for the Quick Play function, plus enhanced status messaging and stability.
The new playlist generator feature allows Gofigure to scan any SD card/s inserted into 2go or Poly for music and create playlists for every stored album, giving a quick and easy way to play all stored albums without the need for either a Wi-Fi connection or another app.
The new version of Gofigure is available for Android and iOS devices, and can be downloaded directly from the Google Play Store and Apple's App Store, respectively. Android 10 users are encouraged to download a specific version of Gofigure from the Chord Electronics website directly at: chordelectronics.co.uk/android; Android 10 users installing from Google Play Store will be redirected back to the Chord Electronics download page.
A fresh install of Gofigure is always recommended, however, some devices may auto-update; iOS 13 and Android 7 (or higher) are recommended for running the latest version.
In order to fully take advantage of the latest version of Gofigure, Chord Electronics' 2go and Poly streamer/server will receive their own OTA (Over The Air) firmware updates soon after; 2go will update to v. 1.5.0 in May and Poly will receive a 'light' update in coming weeks, priming the device for a rollout of larger, successive updates throughout 2021.
Chord Electronics' design partners have been able to implement the updates despite a challenging backdrop of Covid-19-related production slowdowns, which have affected all aspects of electronics manufacturing in recent months. However, the team is fully committed to moving development forward and is working hard to continually develop the company's streaming software and improve the Gofigure app experience.
*Requires a (forthcoming) firmware update for 2go. Playlist generator update available for Poly later in 2021.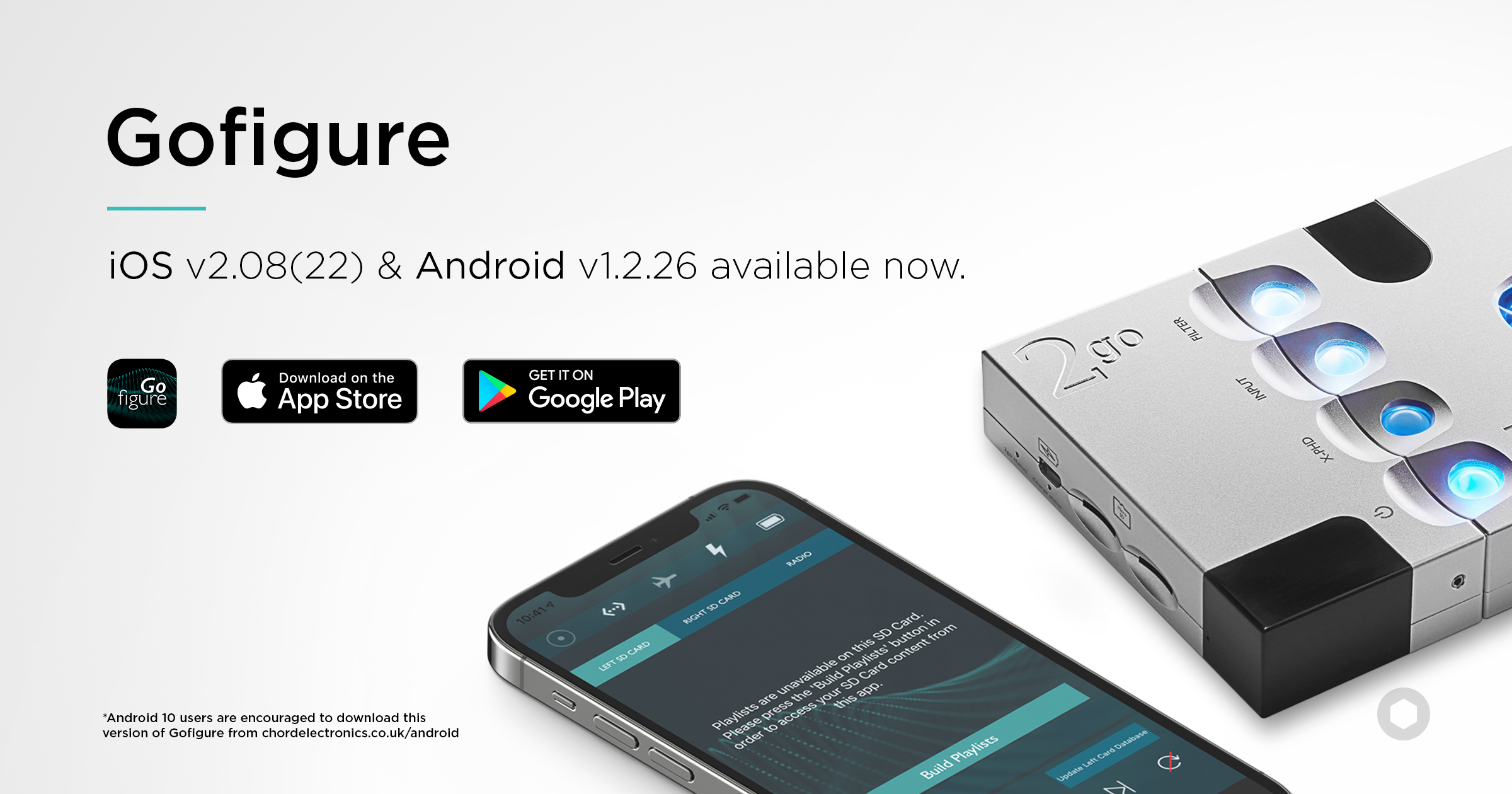 About Gofigure
Gofigure is an intuitive configuration app for Poly and 2go that provides easy network set-up and simple settings management, all within a slick and powerful interface. The app offers effortless navigation through both 2go's and Poly's main configuration options and benefits from an easy-to-use set-up wizard.
Gofigure is a configuration companion, designed to complement existing third-party control point (playback) apps, such as mconnect and 8 Player. Gofigure simplifies many of 2go's and Poly's advanced processes, and offers simple control over the various set-up options, in one simple app.
Gofigure's wizard makes it easy to configure both new and existing devices to available Wi-Fi networks, quickly enabling music playback. The wizard also facilitates direct Bluetooth set-up and playback, and also offers step-by-step configuration using Hotspot Mode.
Price and availability
Gofigure is free and is available now for both iOS and Android devices: search 'Gofigure'
About Chord Electronics Ltd
Chord Electronics Ltd is a world-leading manufacturer of high-performance hi-fi and audio products. Since 1989, from its spectacular riverside base in Kent, England, Chord Electronics has been creating some of the planet's finest hi-fi, home cinema and professional audio equipment. A technology-driven innovator, Chord Electronics continues to deliver excellence through exemplary audio engineering, cutting-edge design and a true aesthetic understanding.
Chord Electronics is trusted and admired inte­rnationally and its global customer base includes: Metropolis Studios, Abbey Road Studios (London); Sony Music Studios (New York), Skywalker Sound (California) and more. www.chordelectronics.co.uk
# # #