Posted by The Sound Organisation on Mar 16th 2020
Rega's new Ania Pro cartridge has been getting some rave reviews since being introduced in early 2020. The Ania Pro is an upgrade to the the baseline Ania cartridge that improves upon the stylus profile. The Pro is a great choice for those audio lovers looking to squeeze more performance from their system without jumping up to the higher-priced Apheta 3 and Aphelion 2 cartridges.

The Ear recently had an opportunity to try out the Ania Pro, and Jason Kennedy found the new MC cartridge to be "solid, vibrant, deep of soundstage, and vital." Now, Ed Selley of Hi-Fi Choice has released his thoughts on Rega's newest moving coil cartridge.
Selley was still holding on to his Rega Planar 10 which he recently reviewed, so he was able to test the Ania Pro alongside the Apheta 3 cartridge, the Ania cartridge, and the now-discontinued Apheta 2 cartridge. Selley was noted that the Ania Pro competes with the Apheta cartridges, showing a marked improvement over the Ania, and possibly even a more inviting soundscape compared to the old Apheta 2. Of course, the Ania Pro had a harder time with more complex material compared to Rega's new Apheta 3 cartridge.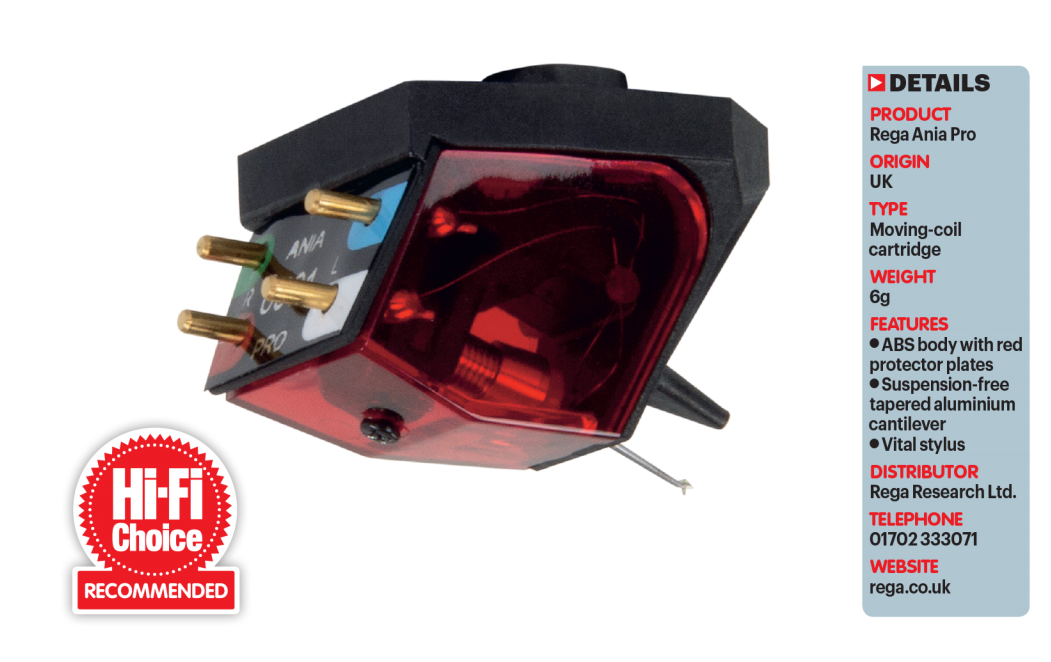 "Listening back to back with the Apheta 3, and some of the immediacy of the more expensive moving-coil cartridge is lost — although the Ania Pro is still a fast and fluid performer...In many ways, the Ania Pro takes the strengths of the now discontinued Apheta 2 and adds an extra dose of civility and warmth for a more attractive outlay."
From Rega:
Please note: This review has two errors which went to print without us seeing it first, the output of the Ania Pro is 350Micro Volts not the 175 the reviewer states. This is the same as all Rega MC and is not unusual in any way for an MC cartridge, so we suspect his measurement method was inaccurate. Also in the call out it states a spacer is proved for fitting to non Rega arms, he is referring to the packing spacer we use to secure the cartridge into its packaging, this is not intended for mounting as clearly stated in the packaging provided!