Posted by The Sound Organisation on Oct 14th 2018
Originally Published May 19, 2016
Unveiling the Rega Planar 3 turntable, newest in a long line of Greatness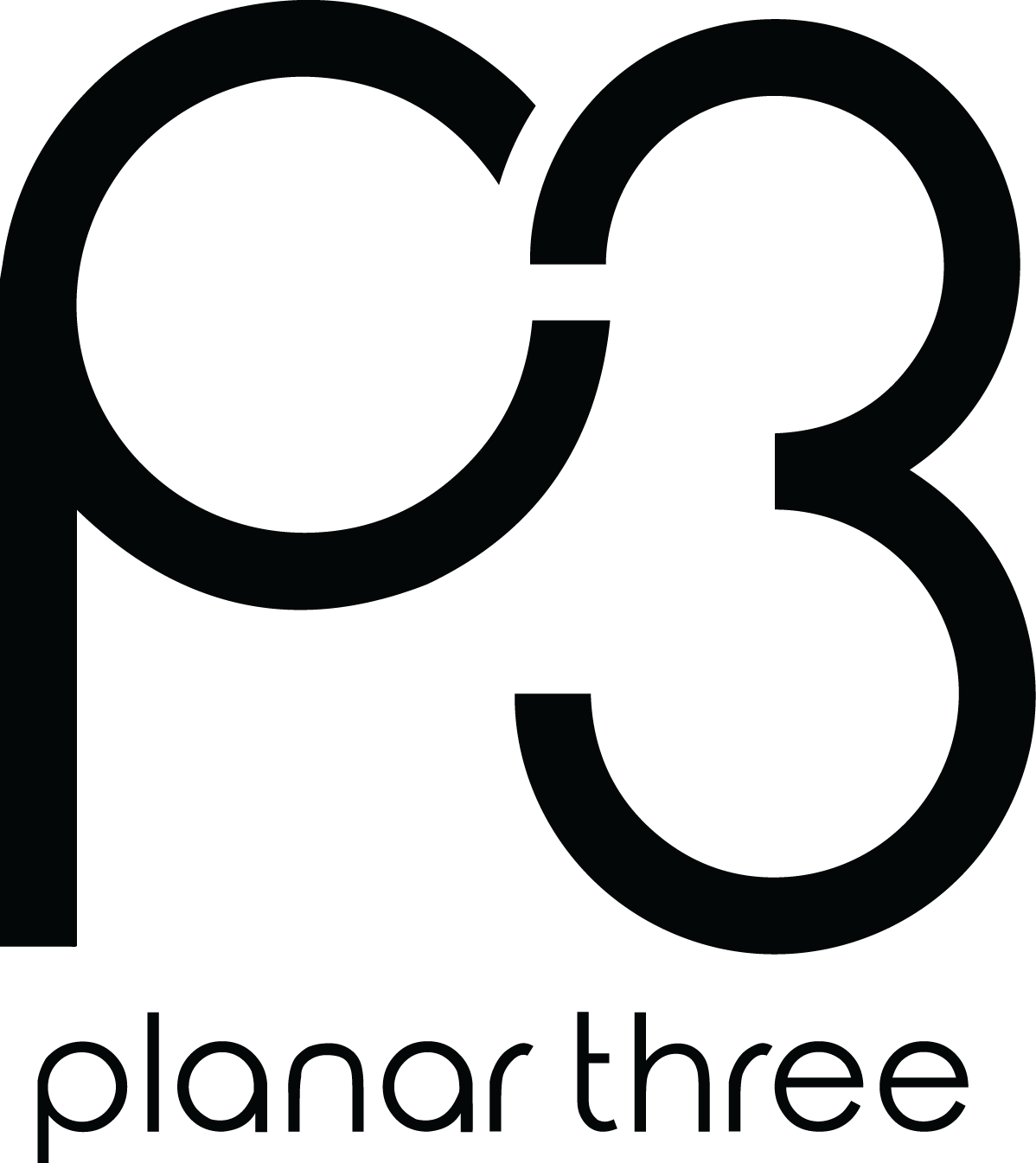 Coming in June 2016, the Rega Planar 3 turntable was two years in development. With only a few parts carrying over from the previous generation, this is truly a new design. Building on over 40 years of effort, the new Planar 3 features newly redesigned components reflecting Rega's core engineering philosophies. Careful tuning and consideration elevates the looks and performance of this legendary lineage of "3-series" turntables. It is an even more exceptional value in performance turntables. Available in gloss black and gloss white. $1145 with pre-fitted Elys 2 MM cartridge, $945 without cartridge US Retail. As always, every Rega Planar 3 turntable is built at their factory in Essex, UK, and carries a Three Year Warranty.
Find a Retailer near you to experience Rega. Want to know more about Rega?
Scroll down to find more, and then read the What HiFi? Review of Rega Planar 3 turntable here.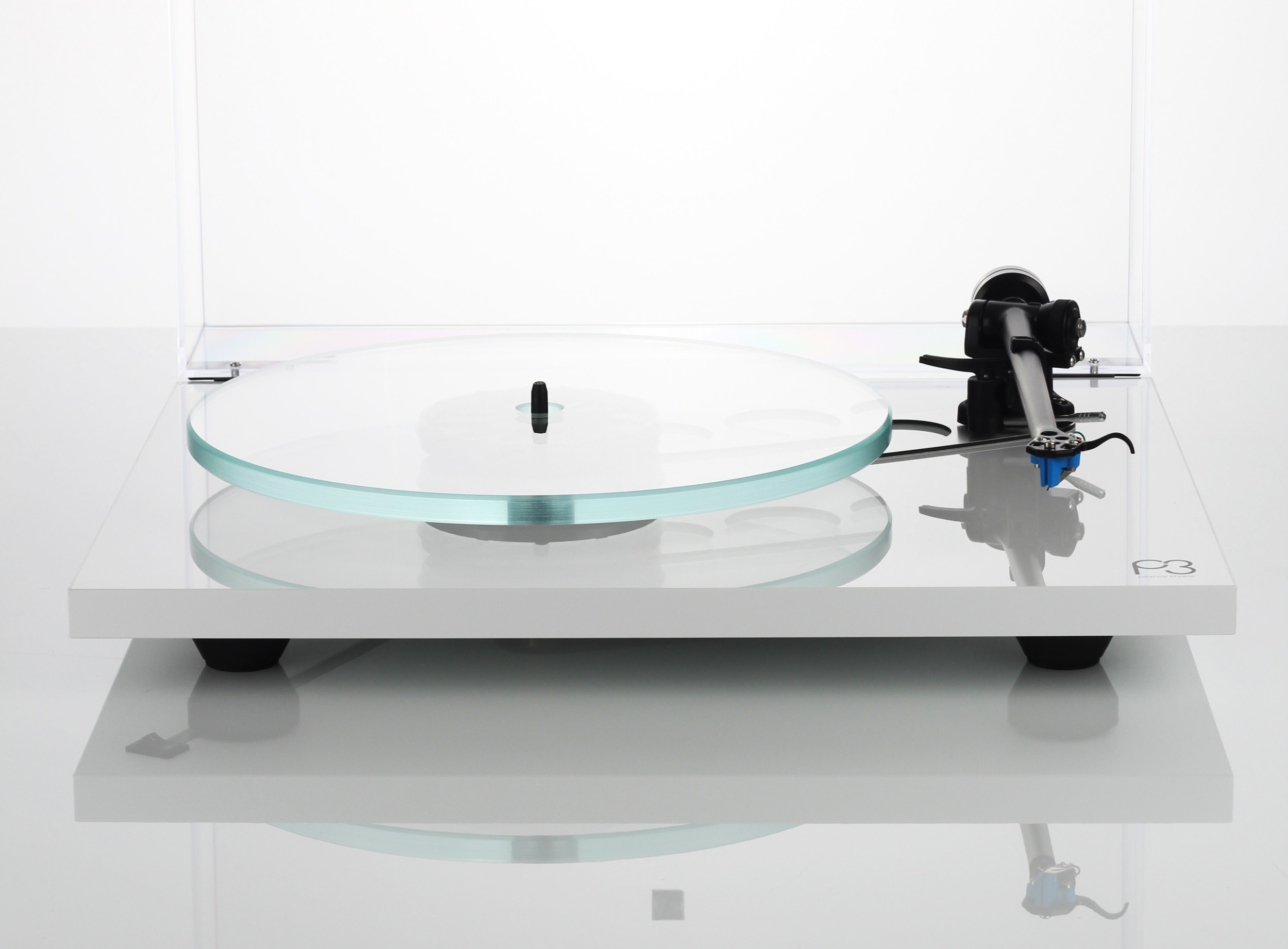 New RB330 Tonearm
The Rega Planar 3 turnable features a brand new tonearm, the RB330. Their latest arm wand is employed, designed using 3D CAD/CAM technology. With carefully redistributed mass, it reduces resonances and increases strength for lower distortion. The internal bearings are new higher grade zero tolerance designs. A redeveloped vertical bearing housing increases stiffness and lowers mass. The dynamic spring housing has been updated, allowing more precise adjustments down to .1g without the use of a tracking force gauge. A new magnetic bias housing simplifies anti-skate adjustment. New ultra-low capacitance Rega-made wiring loom, and even a new integrated arm clip, complete the redesign.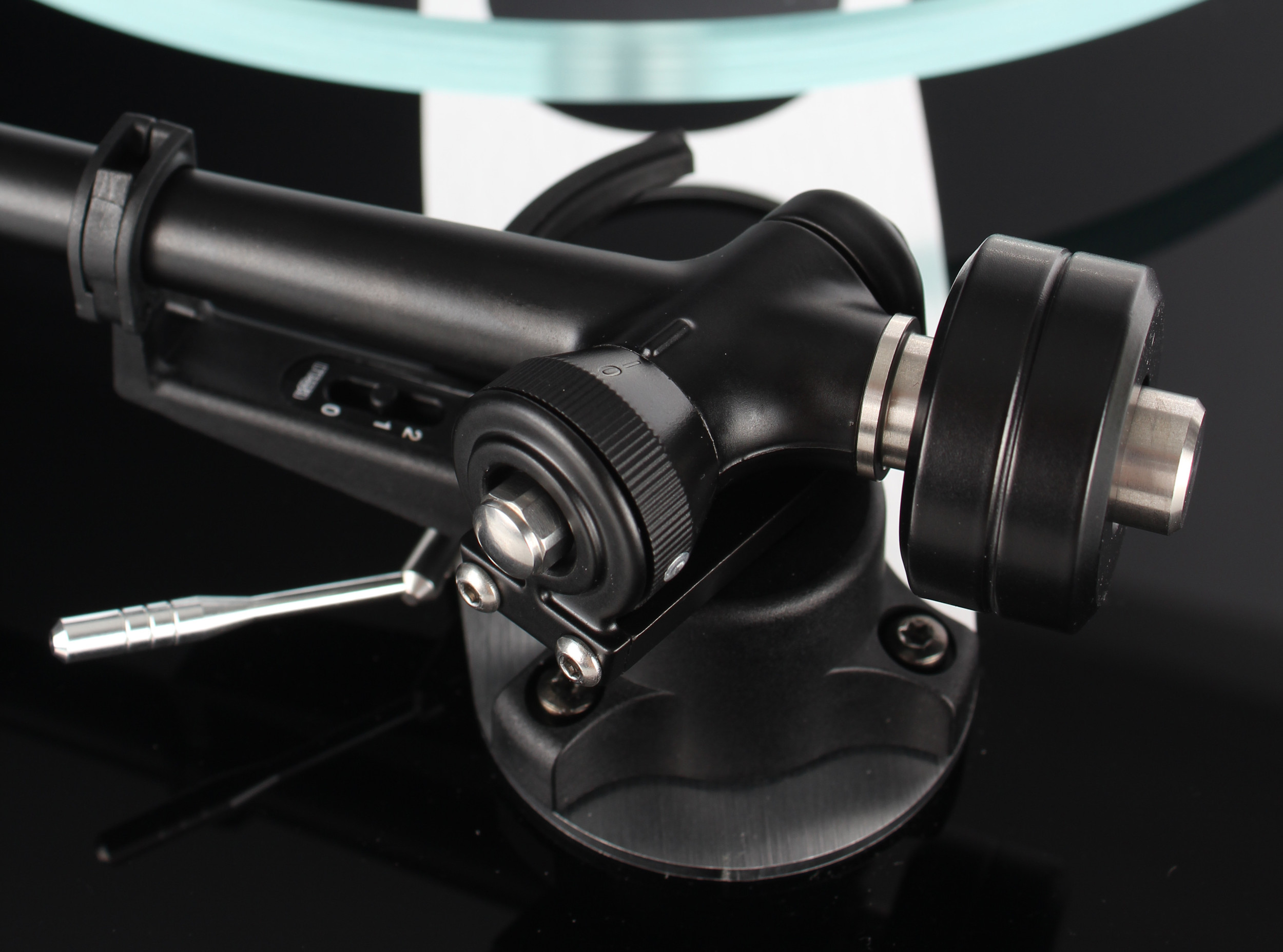 New Plinth, Motor and Braces
Rega didn't stop there. The plinth as has been revised with thicker bracing, forming an even stronger stressed I-beam structure, and is now made from high grade MDF. Performance and aesthetics are improved with a high gloss acrylic skin, bonded to the MDF core under high pressure. The high spec twin phase 24V motor has been improved with a new control PCB, which improves assembly accuracy and eliminates potential component damage. New Santoprene feet are wider in diameter and of hollow lightweight construction, improving stability and reducing vibration transfer.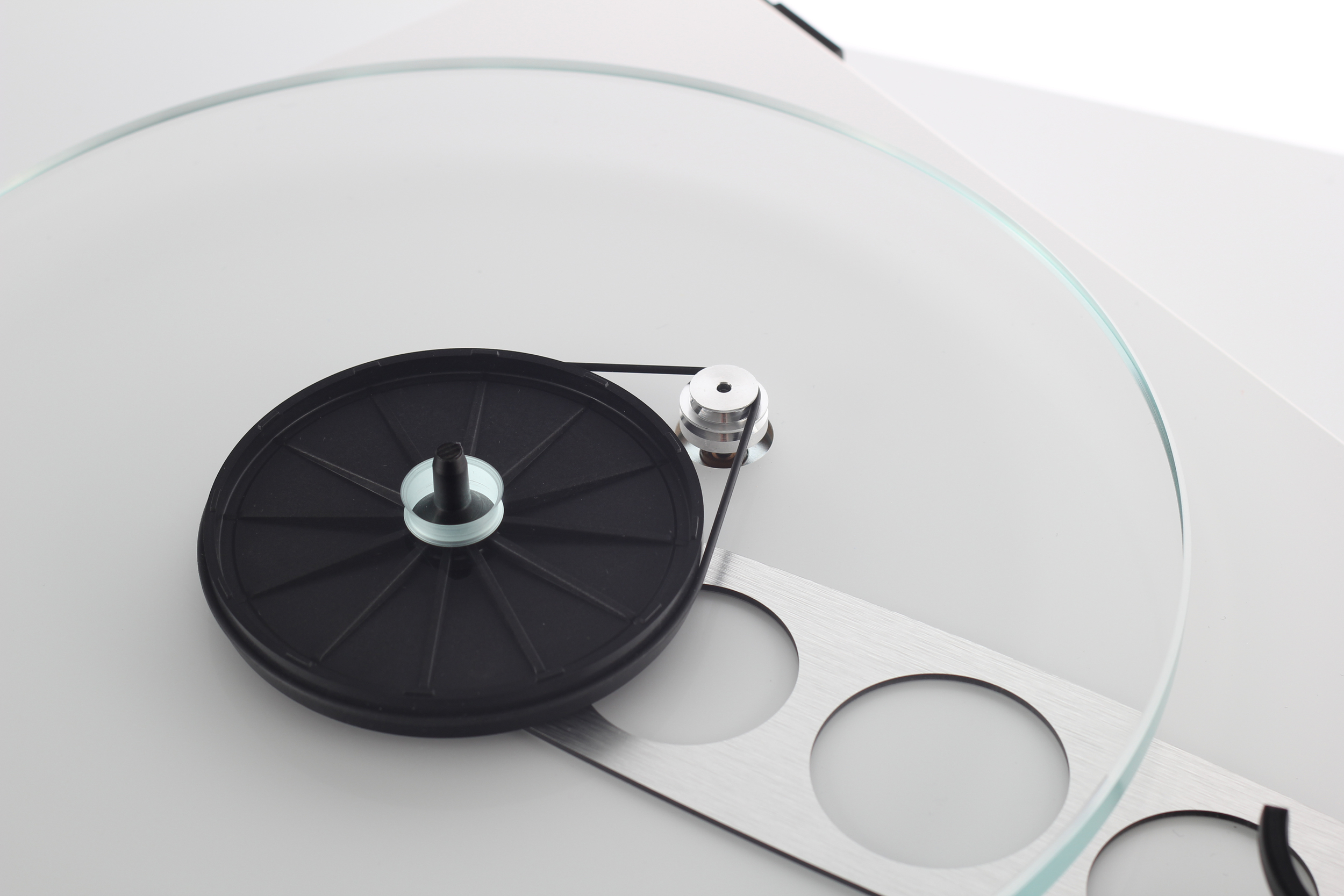 New Optiwhite Platter
The new float glass platter is made from a glass material called Optiwhite. Optiwhite has unique machining properties that allow it to be manufactured with much higher tolerance and greater accuracy. Not only does it improve the look of the finished platter, it also aids in the pure gyroscopic operation if the plater, hub and bearing assembly. This drops noise and increases speed accuracy. To further improve its looks, the edge has been micro-polished for that last bit of luster.
New Hub and Main Bearing
Under the platter lies a new hub and main bearing assembly. The new compression-free bearing housing has been improved with a patent pending design. It ensures perfect perpendicularity with the plinth, and optimal torque, which make for super quiet operation. The hub (sub-platter) is completely redesigned with a new high strength, glass impregnated polycarbonate material called Makrolon. It is not only stronger, but lighter in weight and more accurately machined. The number of contact points is increased as well, making for a much more precise platter mating. This whole new assembly stops potential energy transfer from the platter/hub into the plinth, resulting in dramatically lower noise and increased detail.
All in all, the Rega Planar 3 turntable is a big step forward in design, quality, performance, and value. It's everything a Rega should be. Scroll down to hear about Rega's company philosophy, and see a Rega Planar 3 turntable being built.
Planar 3 Technical Specifications:
Plinth - High gloss acrylic, laminated plinth, stiffer and vastly improved appearance, ergonomically positioned power switch. Two plinth finishes currently available are gloss black & gloss white.
Double braces - Improved thicker 3mm phenolic bottom brace and new metalized skin phenolic top brace.
Bearing housing and precision main bearing – Re-designed brass main hub central bearing, improved fit and construction reducing stress on the bearing itself.
Sub platter - Re-designed sub platter, improved accuracy and greater stiffness.
Platter – New 12mm float glass 'Optiwhite' with polished rim
Redesigned foot - New improved foot to increase stability and reduce vibration transfer.
24V motor – high spec low noise twin phase motor with new motor control PCB.
Motor cover tray with integrated cooling.
Compatible with the TT-PSU electronic speed change and power supply box (optional).
Factory fitted with RB330 tonearm and optional Elys 2 MM cartridge.
Dimensions (lid closed) H 4-1/2" H x 17-1/2" W x 14" D
Weight 13 lbs.
$1145 w/ cartridge, $945 w/o cartridge US Retail
RB330 Technical Specifications:
9" arm wand (227mm effective length)
Rega three-point cartridge mounting, plus standard two-point
three-point arm mount for ultimate stiffness
New bias assembly
re-designed stiffer vertical bearing housing
new integrated arm clip and
improved spring housing with easier to read numbers
improved "zero-tolerance" low friction precision horizontal and vertical bearings
improved arm wand redesigned using 3D CAD/CAM for redistributed mass, netting lower resonance and improved strength
new Rega-made low capacitance phono cable with Neutrik plugs
New design 100g mild steel balance weight increases dustcover clearance
$595 US Retail, available separately Q3 2016
Watch Roy Gandy, founder of Rega Research, explain his company's philosophy:
Watch a Rega Planar 3 turntable being built:
Want to learn more? View the Planar 3 here.