Posted by Richard Stevenson on Feb 21st 2020
FYNE AUDIO expands flagship F1 Series with two stand mount models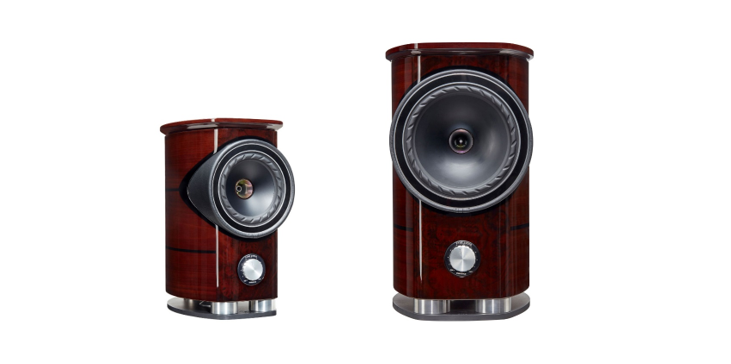 The compact F1-5 and substantial F1-8 standmount join Fyne Audio's flagship F1 Series, bringing high-end point source music reproduction to smaller rooms
BRISTOL HI-FI SHOW 2020: FYNE AUDIO expands its flagship F1 series of loudspeakers with two stand mount models, the F1-5 and F1-8 and a dedicated stand, the FS8. Designed to bring the luxury build and high-end sound quality of Fyne's statement loudspeaker concept to smaller rooms, these true point source monitors deliver unrivalled accuracy and compelling musical engagement. Designed, manufactured and hand finished to Fyne's exacting standards at its Glasgow UK facility, the traditional piano gloss real walnut veneers and opulent burr walnut inlays speak of the engineering excellence and detail within.
Distilling the acoustic design and bespoke technologies of the mighty Fyne Audio F1-12 into a compact cabinet design, the new stand mount models are based on 5" (125mm) and 8" (200mm) IsoFlare™ point source drivers. The smaller F1-5 unit mates a 125mm mid/bass cone complete with Fyne's innovative FyneFlute™ roll surround, with a 19mm (¾") magnesium dome compression tweeter positioned at the centre of the driver. Covering the full audio range, this driver creates a time aligned isotropic wave front. The result is a true point source with vanishingly low distortion, high power handling and unequalled musical cohesion.
...
The larger F1-8 scales up its smaller sibling to an imposing stand mount design based on a dedicated 8" (200mm) IsoFlare driver. This unit combines a multifibre mid/bass cone with a 25mm (1") magnesium dome compression tweeter, along with a raft of Fyne's technologies and refinements including FyneFlute roll surround, cast aluminium chassis and ferrite HF magnets.
Both new F1 Series models offer the scale and depth of floorstanding designs with finesse and tautness in monitor format, thanks to rigid birch ply cabinets and the integration of Fyne's BassTrax™ technology. Incorporated into the machined aluminium plinths of the F1-5 and F1-8, BassTrax uses a Tractrix profile diffuser cone that transfers the plane wave LF energy from the cabinet's down-firing port into a 360 degree spherical wave front. This seamless LF output delivers substantial bass depth and weight despite the smaller volume cabinets and makes the resulting speaker far less critical of room position and placement.
...
True to the F1 Series, both new stand mount models offer subtle control over the presence band output via a robust front mounted aluminium knob. This unique control through the 2.5kHz-5kHz region, of up to +/-3dB, gives users subtle adjustment of the soundstage through the key vocal spectrum without impacting the overall balance or the speaker's faithful reproduction of the original recording. The control can gently counter room issues such as being overly live or too heavily damped or can be left in the central 0dB position for a purist response in natural sounding rooms.
Crafted to partner the finest amplification, the F1-5 is a compact 321mm (12.6") tall yet offers 87dB/W efficiency, bass output to below 50Hz and substantial 200W peak power handling. The 470mm (18.5") tall F1-8 reaches down to a "floorstanding" 33Hz in-room, is 91dB/W efficient to make the most of the low power valve amplification and can handle up to 360W peak power.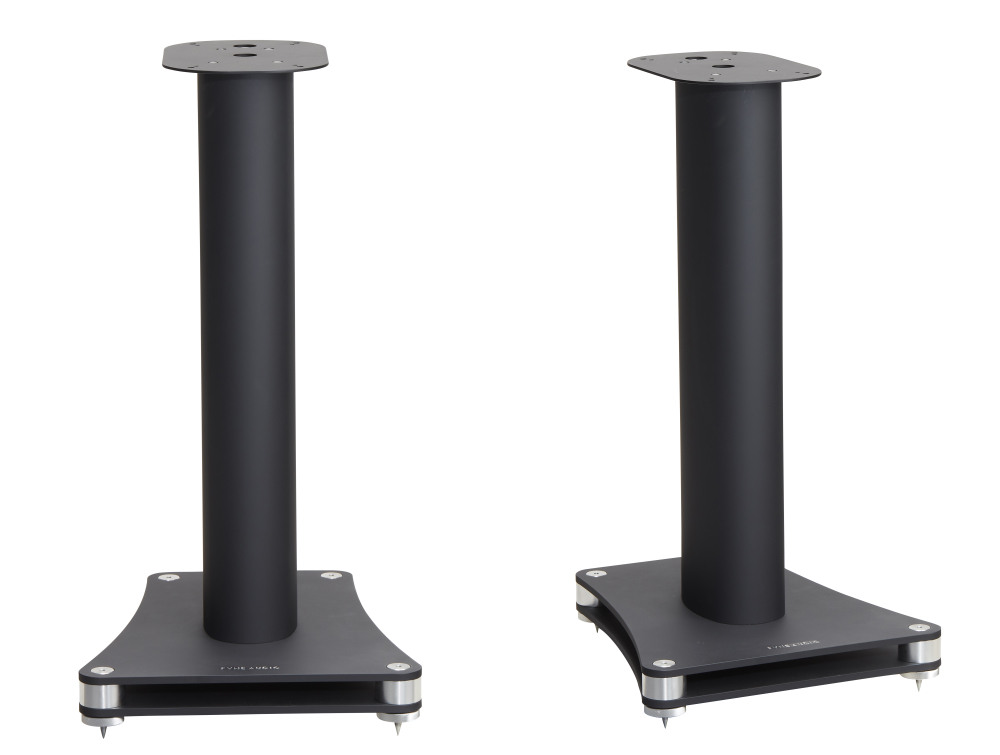 To support these new stand mount models, Fyne Audio has also announced the dedicated FS8 loudspeaker stands, created for F1-5 and F1-8 but equally at home with the new F700 and F701 models. The design shares the same luxury build and machined aluminium plinth of the F1 and F700 models, adding both acoustic benefits and aesthetic cohesion to these stand mount designs.
The F1-5 and F1-8 will be unveiled at the Bristol Hi-Fi Show, 21st-23rd February, and will be available from Fyne Audio dealers internationally from February 2020.
About Fyne Audio: Founded in 2017, Fyne Audio is the brainchild of six audio industry professionals with a mission to deliver ground-breaking loudspeakers, designed and manufactured in Scotland. With roots tracing back over 30 years across several Tier 1 audiophile brands, the Fyne Audio team has created a dynamic, independent company energised with new ideas. With a strong Scottish heritage, international backing and high ethical values, Fyne Audio is the UK's fastest growing audiophile brand.